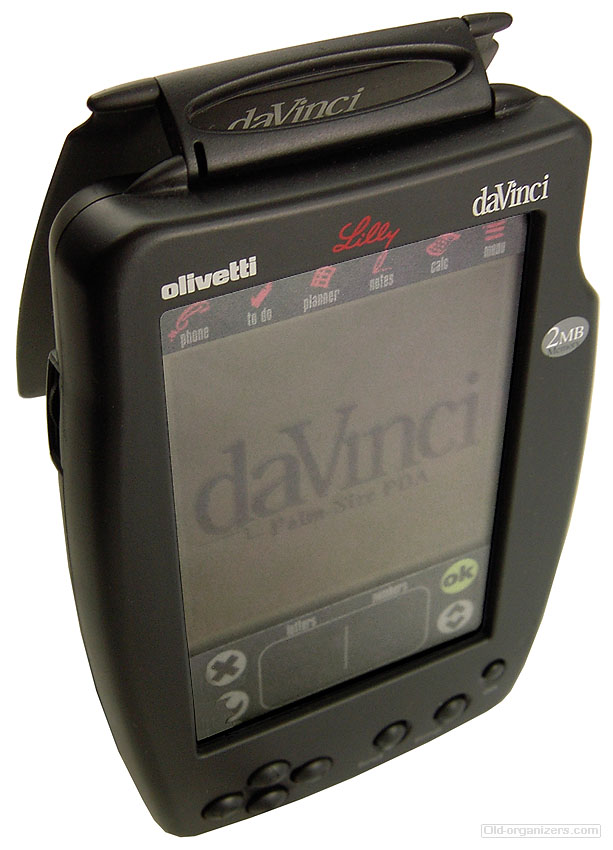 Welcome display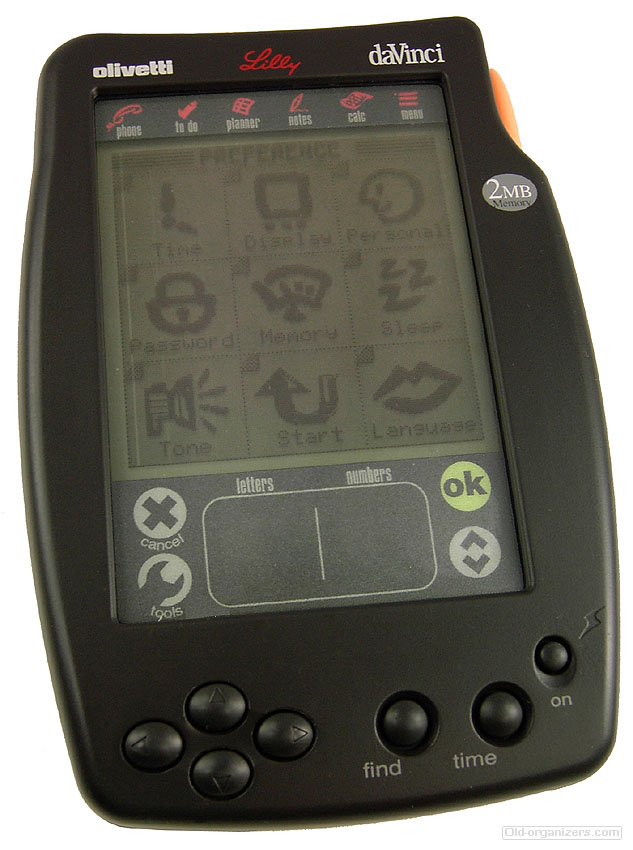 Preference menu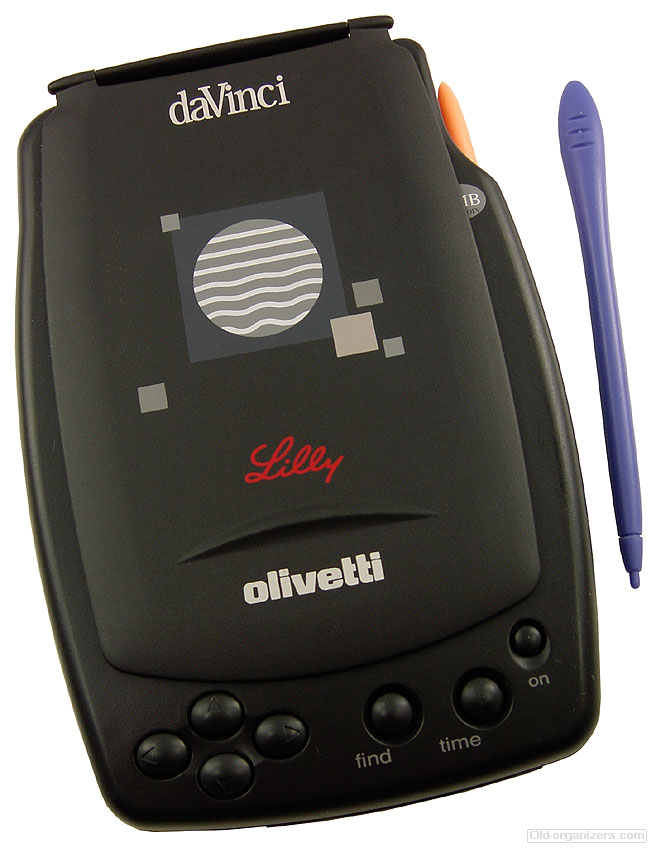 Closed. I have no information about this 'Lilly' version.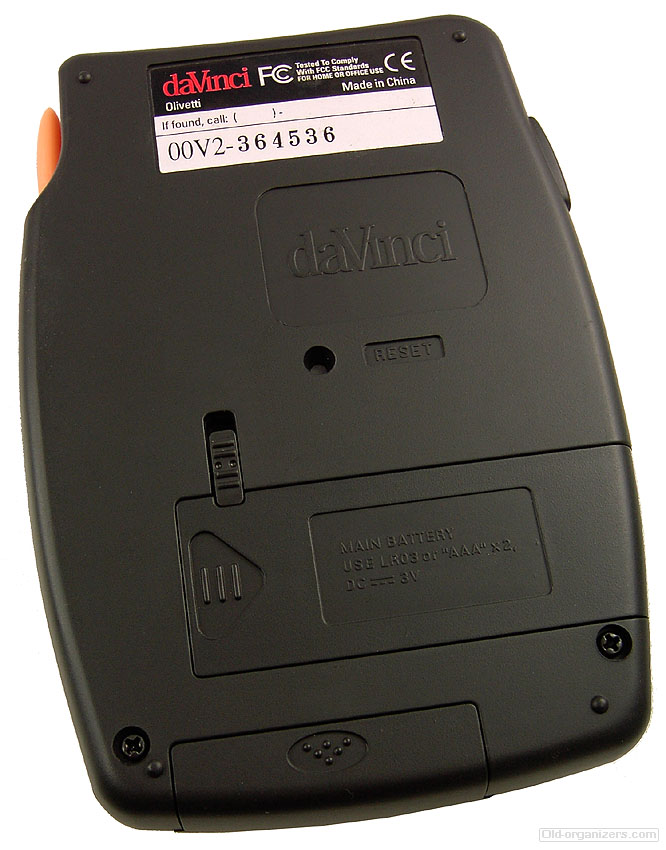 Back side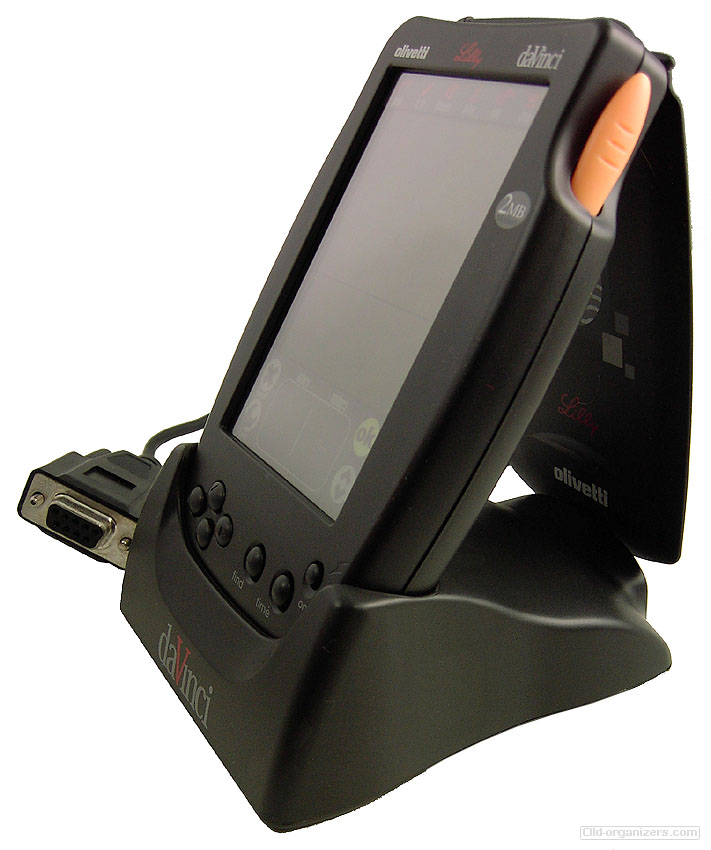 With its serial docking cradle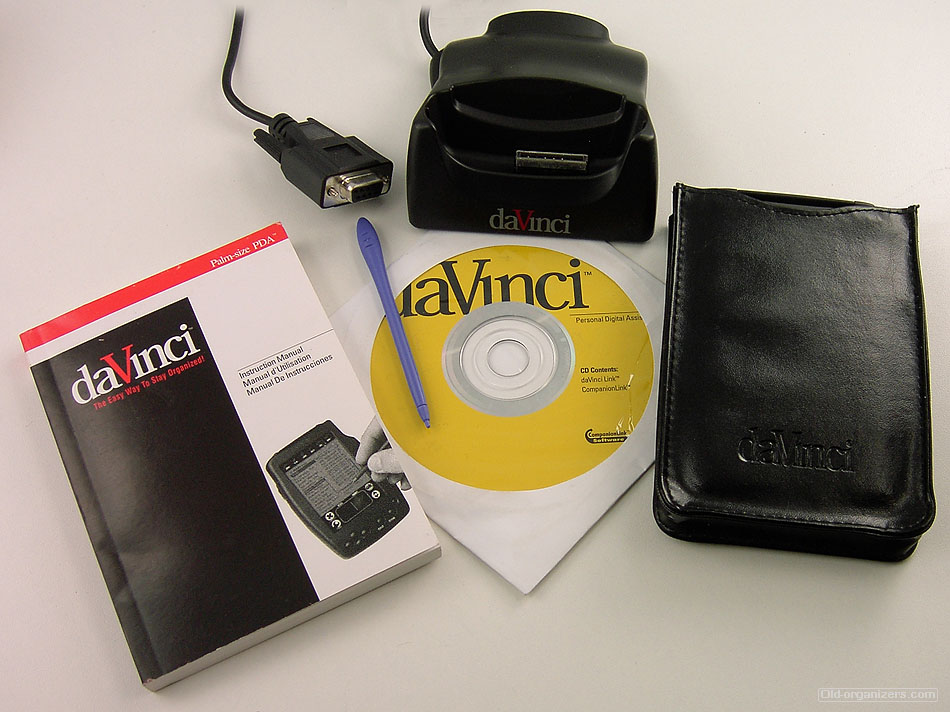 User manual, docking cradle, slip bag and extra stylus.
A fold-out keyboard was also delivered for free with mail orders.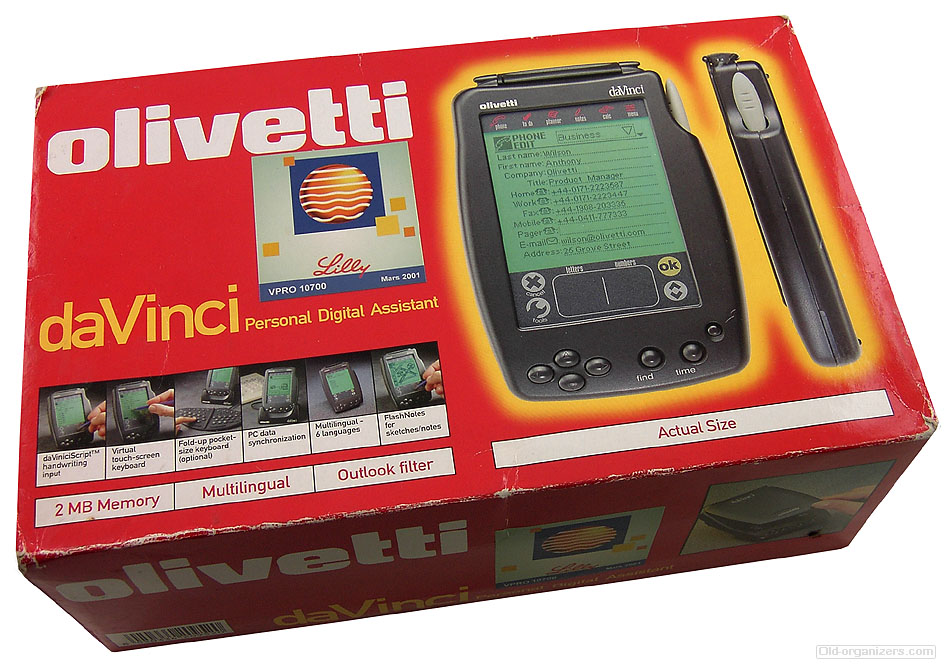 The box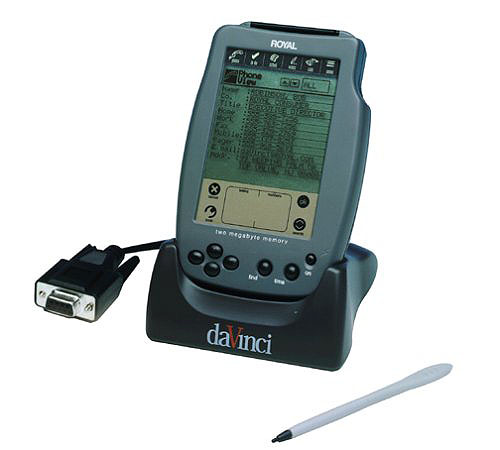 The Royal brand version



---
User manual
---
More Info
See also the Alex' daVinci DV3 developper page.

Smart Computing review.
The daVinci DV3 is a low-cost alternative for those who want simple PDA (personal data assistant) functionality. At $99 the DV3 is one of the least expensive PDAs on the market, but you have to make some compromises and do without some of the functionality you might find in a Palm OS or Windows CE device.

The daVinci DV3 has a decent design and at 5 inches high x 3.25 inches wide x 0.75 inches thick and five ounces, size and weight aren't a big concern. It is a little larger than low-end Palm models, but not by enough to make it a major issue. Inside, the unit has 2MB of RAM and an Epson processor.

Unlike low-end Palm models, the DV3 uses flash memory to store the OS (operating system) and applications, which means you can upgrade the OS. One drawback, however, is the lack of third party applications. The Palm OS has a variety of third party applications that let you use your PDA to keep track of golf scores, finances, and even your desktop documents. Without these third-party applications, you're limited to the basic PIM (personal information manager) functionality provided by the included software applications.

The DV3 features a cradle for synchronizing with a desktop PC. We didn't have any trouble using the include CompanionLink software to synchronize with Microsoft Outlook 2000. Other conduits are available for ACT!, GoldMine, Lotus Organizer, Microsoft Schedule+, and the Palm Desktop. If you don't already have a desktop PIM, you can install and use daVinci Link software instead. We were a little disappointed that we had to start the synchronization by taping on the display, but it's only a minor annoyance.

The display isn't as clear or as sharp as the displays you get with a Palm OS device. The 128 x 99 pixel resolution is a little lower than Palm's 160 x 160 pixel resolution, but the display also seems somewhat dim. It's passable for what you'll use the device for (quickly looking up notes or addresses).

The unit features an on-screen keyboard and handwriting recognition for input. The daVinci Script used for handwriting recognition didn't seem as forgiving as Palm's Graffiti, but it's usable. The daVinci DV3 comes with an offer for a free keyboard by mail. The keyboard plugs into the DV3's cradle or directly into the unit itself. It is decent and it provides a nice alternative.

Overall, the device is a decent unit for those looking for a low-end PDA. It is usable and we like the fact that you can upgrade the OS. If you're looking for more in a PDA than PIM functionality, then you should probably spend the extra money on a low-end Palm. What you'll lose in OS upgrades you'll make up for in third-party applications and hardware add-ons.