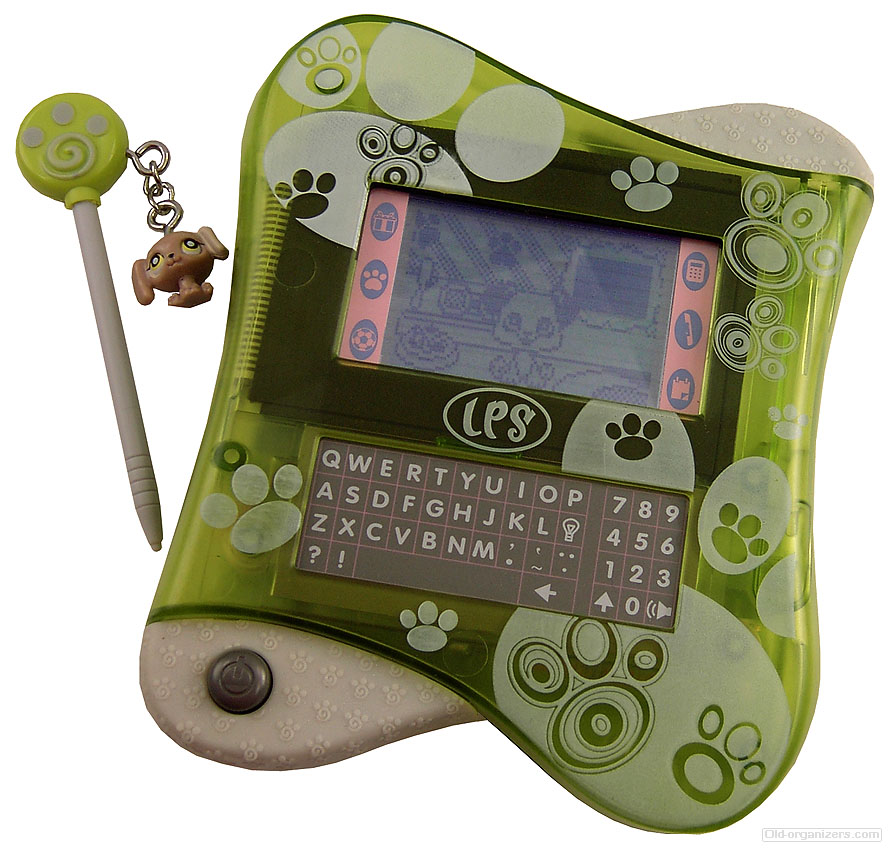 The interactive pet in its home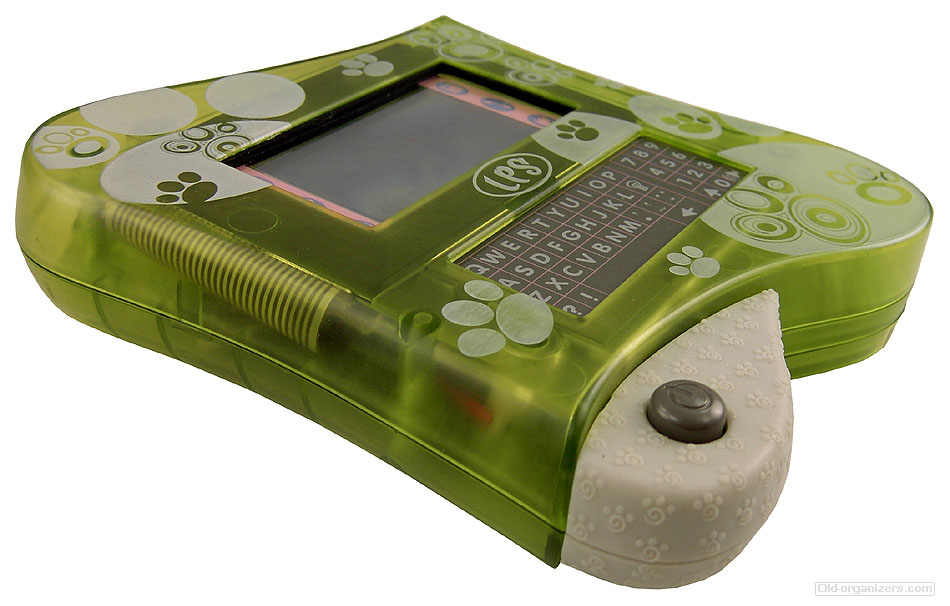 Side view of the robust and translucent case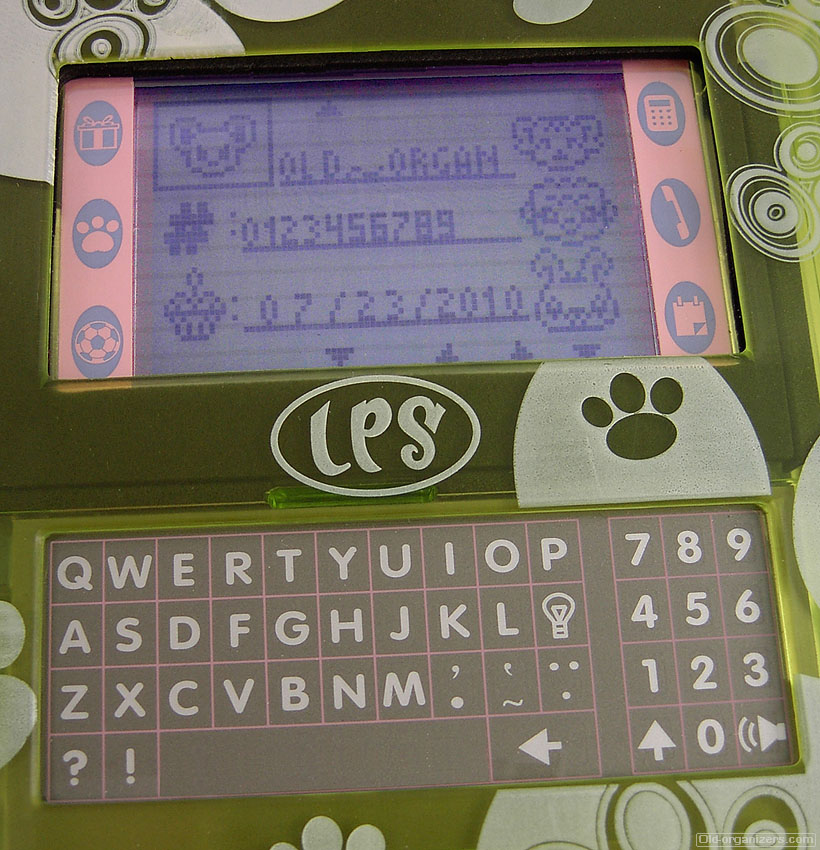 Flat keyboard and display close-up, running the phone book function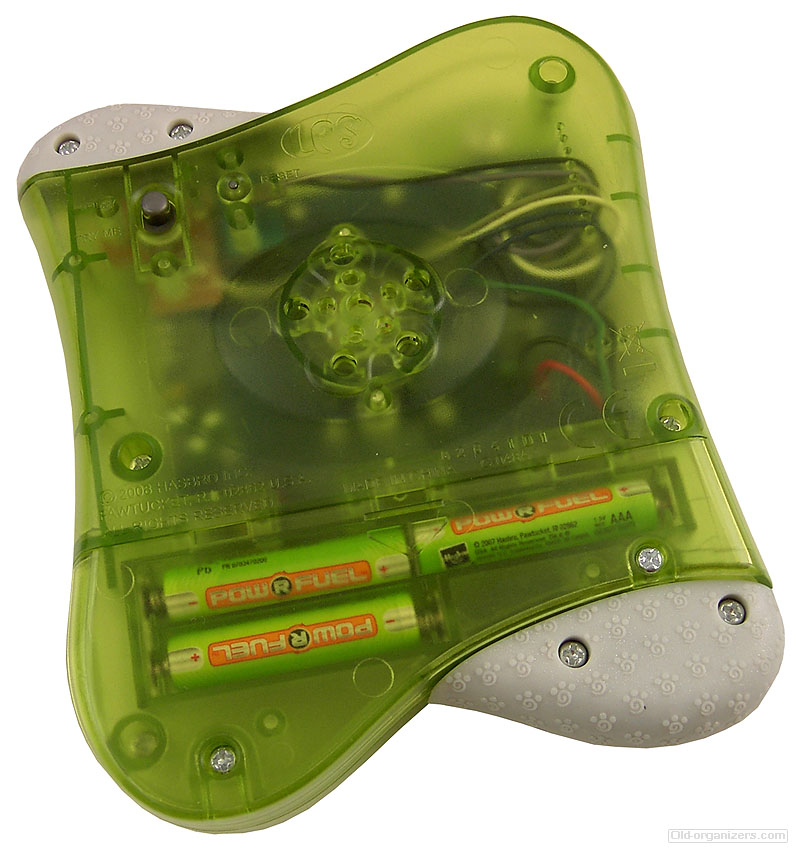 Back side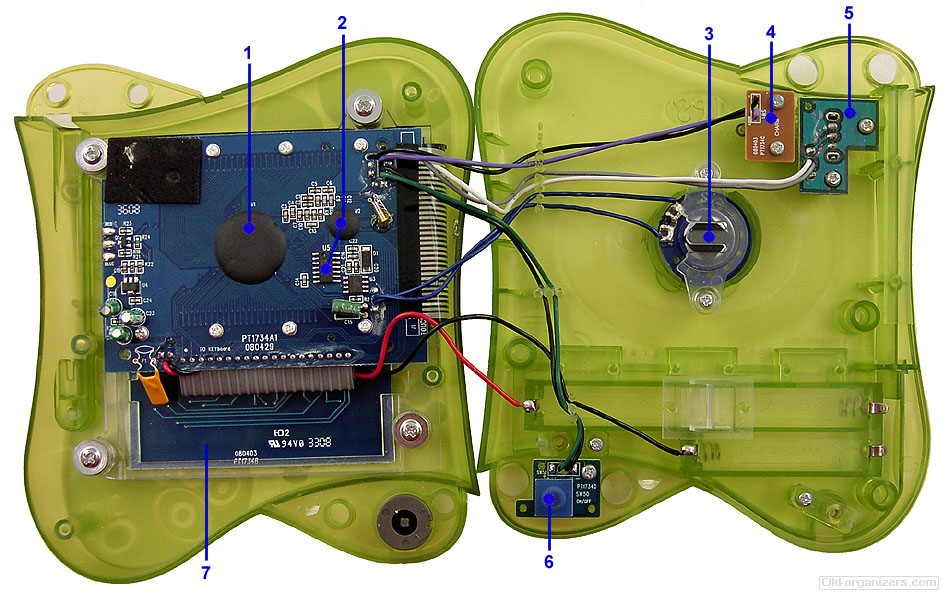 Opened. (1) Main processor, (2) Sensitive keyboard and tone generator chips, (3) Loudspeaker, (4) Reset switch,
(5) 'Try me'/'Play' switch, (6) On/Off switch, (7) Display card.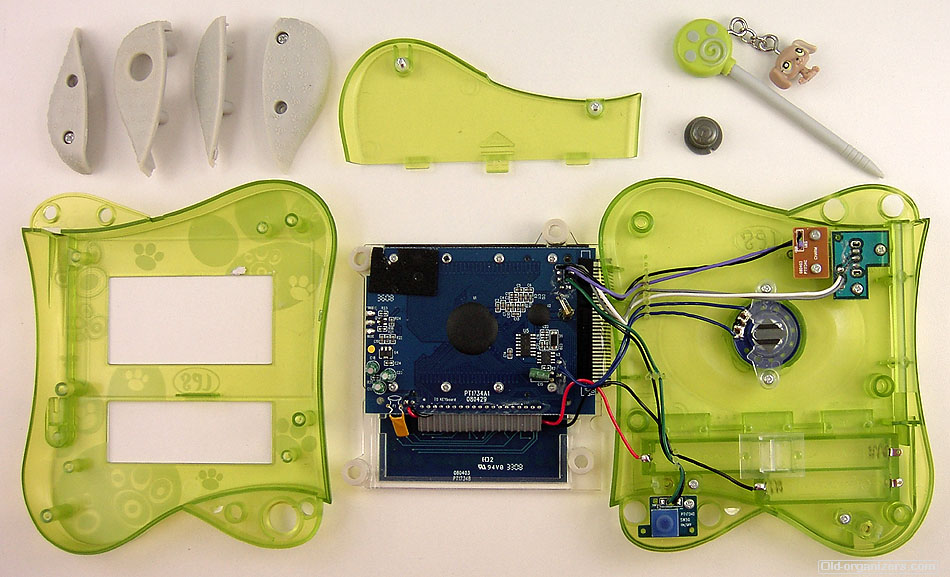 PetShop autopsy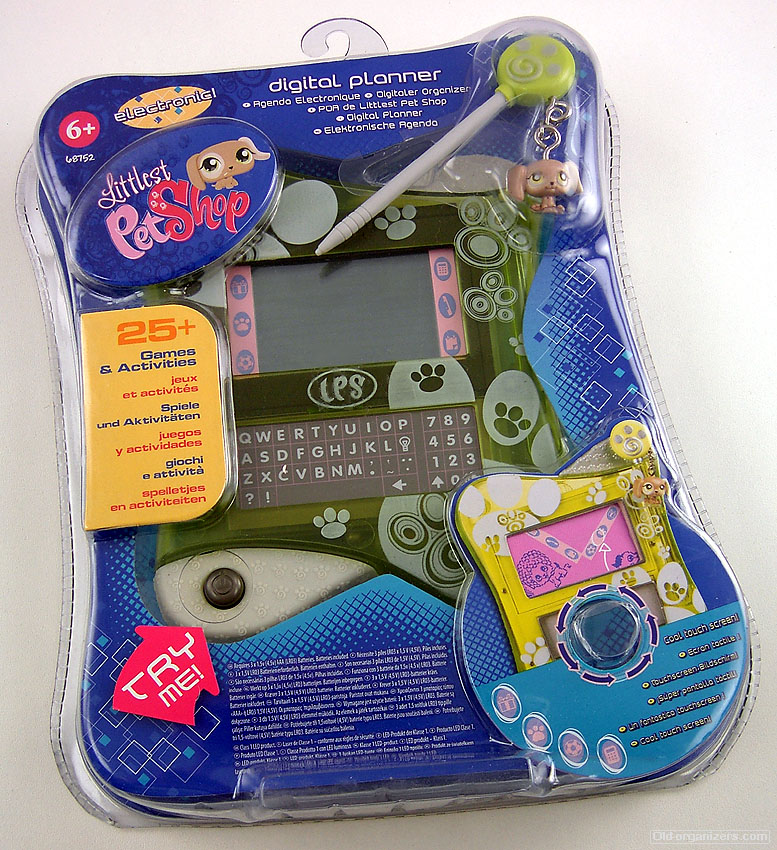 The blister pack



---
User manual
---
More Info
Hasbro press release

Fun is sure to be a part of the plan with this electronic organizer! Use the touch screen and stylus pen to care for your new digital pet, feeding, washing and even brushing him! Spend the day doing some virtual shopping together and pick out hats, hair accessories and shoes so you can dress your four-legged friend! Play games and plan all kinds of pet-lovin' activities! Snap a picture at your pet's photo shoot! Think he might be hungry? Choose some food to feed him! And with all the fun you're sure to have, you'll need to keep track of your plans. You can also use your digital planner as an address book, a calendar for storing special dates and as a calculator! Take your planner with you when you're on the go. With more than twenty-five on-screen games and activities, your calendar is sure to be chock full – of fun!

Amazon.com review

Your little girl is sure to love the way the Littlest Pet Shop Digital Electronic Interactive Organizer in Pink lets her have an interactive pet and a personalized planner that are all her own. She can customize her pet's room and play fun games in the park, all while watching her ratings soar as she spends more time looking after her pet. Designed for ages six and up, this organizer also features an address book, calendar, and calculator for keeping track of real-life.

The organizer offers an easy-to-use touch screen. View larger.
The stylus is decorated with a fun pet charm. View Larger.
Take Your New Friend Everywhere You Go With three AA batteries included, this organizer is ready to go right away. Just make sure to flip the switch on the back from "Try Me" to "Play" before you turn the unit on. The stylus pen and touch screen are easy to use, but you may have to help younger users get used to the motions that make their pet move. Though bubbles above the pet's head will let you know how to keep it happy.

The park is a good place to start having fun. There are 14 different games and activities to keep your child and her pet entertained. Each one lasts 60 seconds. Aim to pop the most balloons as they go by, or get competitive by playing fetch and tetherball. Touch the sign in the park to see the latest high scores.

When your pet needs a change of pace, head to the shop and pick out shoes, tops, wigs, and accessories for a pet photo shoot. Leading your pet all the way through the store can be a little tricky at first, but it gets easier with just a little practice. Once her pet is dressed, your child can pick out a favorite background and save up to four photos. Back in pet's room, one of these photos can be displayed on the wall. And don't forget to feed your pet, who is sure to be hungry after all those activities.

Practical Applications
Since your little girl will want to take her pet everywhere she goes, it's convenient that the unit doubles as a calculator, an address book with space for keeping tabs on new friends' birthdays, and a calendar that spans from now until December 31, 2010. You can even set fun icons to appear on special dates. A full keypad that works with the stylus pen makes adding notes easy.

Parents will appreciate the way this organizer encourages responsibility and planning ahead, as well as the fact that it's easy to turn off the Pet Shop's sound effects. While the pink plastic case seems quite durable, rough play could take a toll on the touch screen over time, so you may want to emphasize the fact that gentle pressure is just as effective as pressing hard on the screen and keypad.

As long as you and your child are prepared to spend some time exploring your new pet's world, and you're not put off by the simple graphics on this unit's gray screen, this digital pet is sure to provide hours of fun. And the organizer ensures that your child will find new ways to make use of this toy as she grows.